Street Rider Training On The Race Track
Never been on a track? You'll be excited about our Cornering School Day's; We will teach you very specific MotoGP riding techniques, like trail braking. In cooperation with the Little 99 Raceway in Stockton we finally have a facility in central California to offer rider coaching on a high level- for a low price. Other schools using the word "advanced"- Superbike-Coach does advanced!

Suitable for
Street riders
All skill levels (we run 3 level groups)
Riders who are up to do their first track day
All categories of motorcycles
If you're tired reading books about it
If you want to be the better rider!
The Track We're Using
The Stockton Little 99 Raceway is a perfect place to learn because it has everything you have to face on public roads, from tight turns to the sweepers… it's just more forgiving than a public street.  The track allows us to change layouts to give you more challenges.  Also, our classroom area is perfectly set for the purpose of making you a better rider!
NO extra track fees… NO bike preparation… NO track gear required
Riding and learning on a track was never more reasonable. This service suits street riders who wants to learn best-riding techniques, or are up to do their very first track day.  Ordinary track days never provide step-by-step instruction.  You are on your own!  This "Cornering School" will provide step-by-step instruction for street riders and track riders.  The class starts at 9am and ends at 4pm. The Coach will take some HD video during all track sessions via action cameras.
How It Works
This program is big- too big to run or learn in one day, so we've set it up in three days, so we can go into more comprehensive subjects which will be covered over the three days school.  Besides adding substantial riding techniques, you get also more riding time on our fabulous track to increase the fun factor!
The best riders on this planet are in MotoGP- but more important- we know exactly what these guys do and how to transfer it to you.  MotoGP riders are extremely good with the basics, so that we think what's good for them- is good for you.  'Cornering School – Day 1' teaches you essential basics, and the elements of 'Cornering School – Day 2' build up your new rider skills you've accomplished- and  'Cornering School – Day 3' is designed for those CSD-2 students whom really wants to learn to go fast by gaining safety.
A dose of extra-awesome was added to the mix every time Coach Can himself went onto the track on race bike. He rides like a devil, but then swoops in front of you and signals to follow him on your pace.
- B. Peterson, San Francisco
It's not skill level- and it's not required to got through all three days, but each day is a next big step in your learning journey.  We have plenty of dates to pick from, so you have time to settle subjects, and gives us the chance to monitor your progress.  We do either sideline or on the bike coaching while you do tasks on the Little 99 Raceway.  This is not for speeding- this is how to find a smooth balance from entry to exiting corners, and to approach them with confidence.  The coach observes and makes 'adjustments' step by step.
You'll gain control, smoothness, and accuracy, which finally leads to relaxation and confidence. Coach Can is also a very good listener for your fears and 'riding demons'.  Each classroom lesson is followed by a track session where you can work on your new skills under Headcoach Can's directions. With him you'll learn from first-hand.
Book Your Spot
Click 'Book Now' to see all available dates and locations.  
Cornering School Day 1
Dealing with fears
Viewing and focusing
Shifting and gear choice
Ideal lines and judgement
Body positioning (all types)
Day 1 will harmonize your bike control with body and soul. Days 1 and 2 are steps, NOT levels, which are important for even very experienced riders. Headcoach Can will sign your Certificate of Completion, which qualifies you for Day 2. You decide when to move on with Day 2. We are ready when you are.
Cornering School Day 2
Less anxiety
Passing and observing
Basic counter-steering and balance
Advanced counter-steering
Dynamic front brake
Day 2 teaches you MotoGP riding techniques. Upon completion, you are qualified and prepared for Day 3, which will build on Day 2 skills and teach you skills that will help you get much faster safely. Day 3 will change the ball park you're playing in.
.
Cornering School Day 3
Confidence workout
Trail Braking & Throttle control
Power braking and easing off
Orientation points
Advanced braking for steering
Alternative course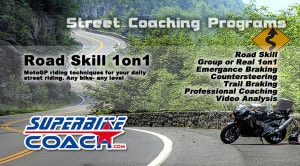 If you don't like classes or group dynamics- and you always wanted a professional coach has his eyes on you and your need only? Then how about a Road Skill real 1on1 coaching?
Goodies by our sponsors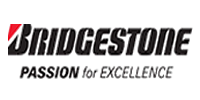 As a Superbike-Coach student, you'll have access to discounts which are donated by our Sponsors and Partners. Go on their websites to check exactly what you want. Come back to us, and we make it happen: office@superbike-coach.com
Course related bike products
Racers-Story, book (Order today)
Benefiicial for intermediates