Finally a class for riders and passengers
Once more, Superbike-Coach makes the impossible possible- we now offer a street rider-passenger class on our Little 99 Raceway in Stockton. In the most affordable and fun way, the student duo receives real lifetime riding knowledge from ex-pro racer Headcoach Can Akkaya. All riding pair levels and ages are welcome. No motorcycle restrictions at all, from cruisers to sportbikes. Coach Can's goal is to "unite" and to synchronize riding duos, both physically and mentally. With this we achieve more safety and fun  riding together.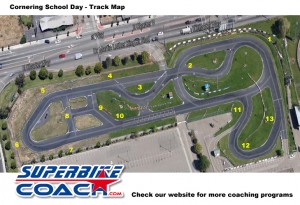 Suits all riders and passengers
Street riders learning with passengers
All bike types: cruisers, touring bikes, adventure bikes, and sport bikes
Passengers of all experience levels
Riding couples whowant to be united and to enjoy this extraordinary hobby in depth
The Track We're Using
The Stockton Little 99 Raceway is a perfect place to learn because it has everything you have to face on public roads, from tight turns to the sweepers… it's just more forgiving than a public street.  The track allows us to change layouts for demos and drills.  Also, our classroom area is perfectly set for the purpose of making you a better "TEAM"!
NO extra track fees… NO bike preparation… NO track gear required… and FREE stuff
Riding and learning on a track has never more reasonable. The fee even includes the passenger, and btw where else can you actually go on a track with a passenger?! Regular street riding protection is sufficient. Our photographer makes FREE of charge sport photos, and we provide water and snacks.
How It Works
The class starts at 9:00am and ends at about 4:30pm. After a skill level evaluation, we split the riders and their passengers up into three groups. The headcount per group is small enough so that there is a lot of individual attention despite being a group class. The class format includes well balanced classroom and track sessions.
You'll receive major, first-hand subjects, designed by Headcoach Can Akkaya, but there will be a lot of information on "the smaller things" in-between as well. Depending on the subject, he will make demo runs with his wife Marion to give you a better understanding of it. You'll need this, because some things we teach at Superbike-Coach go way beyond what others know. You both will be surprised.
Coach Can is more intuitive than a therapist

- Grace C., Cornering School Day 1
We do either sideline or on the bike coaching while you do exercises on the Little 99 Raceway, and the coach observes and makes "adjustments" step by step. You will feel the positive effect of the high repeating frequency of learning all of it on our track. This is not for speeding- this is to team you up and to gain trust by going your pace, in your comfort zone.
Mental connection and mental coolness are the long term outcomes. Both rider and passenger are going to be safer and enjoying the hobby more than ever. What can be better than that?! Sign up soon, because we run this program only once per year.
Also 1on1 coaching with passenger available
If you guys want your coaching more personalized- this program is also available as 1on1 or for small groups. The scheduling is also individual, but during weekdays only. The coaching fee for rider/passenger is: 1 $349. There will be also a additional track fee. Click here and let us know your plan to set this up.
only $199

Click 'Book Now' to see available dates


Mental Connection


Body Synchronization


Emergency Braking for 2


Uber-Steering, Counter Steer


These are just the major subjects, but the day will be filled with much more information than this. Weight distribution, shifting without headbanging, slow maneuvers, movement prediction, and much more. This class will change everything- for the rider, and for the passenger.
Beneficial for 'just licensed' duos
Beneficial for novice duos
Benefiicial for intermediate duos
Beneficial for advanced duos
Alternative course
If you don't like classes or group dynamics- and you always wanted a professional coach has his eyes on you and your need only? Then how about a Road Skill real 1on1 coaching?
Goodies by our sponsors
As a Superbike-Coach student, you'll have access to discounts which are donated by our Sponsors and Partners. Go on their websites to check exactly what you want. Come back to us, and we make it happen: office@superbike-coach.com