Coach's Motorcycle Tips
Finally we have started to fill this page with interesting tips and help from us- Superbike-Coach, to you. We just want you to enjoy your hobby even more. We will come up with a bunch of tricks and do's 'n' don'ts, which we are making sense. What we're showing here is based on decades of riding motorcycles- professional racing on a high level- and years and years of coaching thousands of riders. Here we go… but please be advised that you do this all yourself and we are not responsible for any damage or injuries.
————————————————————–
How to prepare for a track day
Mostly the rules are equally the same from one track day organizer to another, though they are slightly different in the detail- so check on this before you sign up. Since our track days are more track beginner orientated, you might check on what we are require and recommend to get prepared:
Signing up for a group
That's pretty much your first challenge, isn't it?! But don't ya worry, we have plenty of options to make a confident pick. These are our recommendations and policies towards your level and bike you want to bring. Also to look at each group rules and restrictions gives you an idea where you personally feel most comfortable in:
D group: First time on the track- or touring bikes. No wheelies allowed. Passing only on the outside (6 feet buffer)

C group : Intermediate riders- or street and sport bikes. No wheelies allowed. Passing on the outside (5 feet buffer)

B group: Advanced riders- or street and sport bikes. Power wheelies tolerated. Passing inside and outside (4 feet buffer)

B+ group: Experienced street and track riders- sport and track bikes. Power wheelies OK. Passing inside and outside (3 feet buffer)

A group: Very experienced track riders and racers- sport, track and race bikes. Power wheelies tolerated. No passing restrictions
Check your Bike
You don't need to be a mechanic to check these things on your bike- but we do recommend to have it checked by your garage or dealership early enough:
Check for oil moist or leaks under the bike and see oil filter and drain bolt are tight with a proper wrench. Consider to make a oil change before your track day anyway, and go with the best…
Check your chain slag and set it right according to your manual
Check your brake pads (no go for 50% off lifetime) and worn rotors. Also consider the age of your braking fluid
Check rest life of your tires (no go for 60% off lifetime). If you are worried about your tires: GO CHANGE THEM BEFORE YOU HEAD OUT (we have no tire service in the paddock). Besides knobby tires, we allow all tire types, because you should know best what they and you are capable of. Inform yourself for recommended tire pressures, because we don't know.
Bring rain- or street bike tires if it supposed to rain. All track day events and organizers are- like ours- rain or shine!
Tape over all glass and lights AND tape over the speedometer. You do not need the speedometer on the racetrack. It is an unsafe distraction
Suspension setup: Don't waste time and money on this too much. A better rider would make 10-20 seconds less on your bike with the same setup. Come out and have fun!
Safety wire your action cameras to not hurt somebody else!
Check your Gear
It is time to consider your PROTECTION under the motto… the more the better! Nobody else is responsible for the road rash
you're getting. In case you need to add some gear- once you've registered with Superbike-Coach- you'll have access to great discounts by our sponsors. Take advantage of it!:
One or two piece leathers. Two piece leather suits must zip together. Ballistic nylon suits are acceptable. They can be one piece or two piece that zip together, reinforced and padded shoulders, elbows, hips, and knee areas. No chaps. Axo USA holds a 40% off discount for our riders on an entire purchase, so check on their safety gear and let us know what you want in sizes and colors. Check for recommended Back Protectors with Axo as well
Leather boots or race approved boots (8 inches tall). Cordura hiking boots or some ankle boots are not acceptable. Forma Boots USA holds a 20% off discount for our riders. Makes it to a no-brainer!
Gloves must be in a good condition, gauntlet style with closures are required. We can highly recommend to consider racing gloves for several reasons.
Earplugs are making riding more enjoyable and makes it easier to concentrate
Helmet Requirements: Snell, BSI, DOT, or ECE R22.05 approved helmet (high impact tested) less than 5 years old. The production date will be located inside the helmet. Helmets with any visible crash damage will be rejected. If your helmet does not pass tech, you will not be allowed to ride and will not be given a refund. We highly recommend to go with the best helmets money can buy… Arai Helmets!
Until then…
I personally recommend NOT to look for videos to learn the track. Even if you find good once (I never did), you are on your own on the track, and the 'video' got lost in your brain anyway. Also do not ask 'specialists' for the line… I do after you warmed up with the track and know where the asphalt band goes so far. Also skip on 'suspension specialists'. Your bike has resources you don't know, and you have much more important things to think of… to ride the damn thang and to have fun! All of these things are just making you nuts and you can't sleep anymore… stay away of it!
How to load and what to bring
The day finally has come, and you are ready to go. There are more ways to get your stuff to the track. Yes, riding your bike to the track will be fair enough to see if this is a hobby for you or not, but please check your options here as well:
To bring everything you need to the track has to be organized. A pickup truck or a trailer does the job. A U-Haul rental can help out maybe, because in case your bike brakes down- what then?! How to load a pick up truck and what it needs has been described in the article below. BikeMaster has everything you need to make it perfect
Bring water, drinks & snacks to keep yourself hydrated and your energy up throughout the day. A ice chest is like a good friend too
Bring the bike with a full gas tank but bring a extra fuel can. Fuel pumps are available at the track if needed, but pretty expensive. We also recommend to use 91 octane and to have a clean- or to replace your air filter. They are not that expensive and helping to give your bike a better throttle response
A little canopy gives you some shade between your track sessions, and to have a camping chair helps to relax. Take your boots off, or even change completely helps me to re-center when I put my armor back on. Try it!
If you have bring Duct tape, compressed air, bike stands, wrenches and other tools, tire gauge
When to go- Where to stay- What to do
Make your travel plans early with Google Maps so you know when to get there. You might also check for close by Hotels if your travel is long. However, be 15-30 minutes early to enter the gate, which opens at 7:00am with a long waiting line. Sign the track waiver and ask for Superbike-Coach- then find a sweet spot in the paddock to unload and setup your stuff during the track day. Chat later, and walk up to the Clubhouse right away (!) to make your CHECK IN with us to sign our waiver. Now you bring your bike (or two if you have) and helmet to our TECH INSPECTION where we look over what you should have done (above) in YOUR OWN INTEREST already. If you passed the inspection- our staff will put you a sticker on your bike(s)  according to your group. You might have some time to chat now or to relax, but make sure you'll be on time in the Clubhouse for the obligatory RIDERS MEETING. After this you should gear up and check your tire pressure (see above). Have our time schedule and to listen to the radio announcements helps not to miss your session. We are not responsible for this. Our schedule gives you an overview:
7:00am                 Gate opens, Clubhouse
7:15 – 8:00am      Check In open
7:20 – 8:10am      Tech Inspection open
9:00am                 Track sessions begin in 15 minute units with group B+, B, C, D till lunch break
10:10am               Questions and answers for C and D riders, Clubhouse
12:00pm               Lunch break
12.20pm               Free Coach Seminar 'Ideal Line West', Clubhouse
1:00pm                 Track sessions continues in 15 minute units with B+, B, C, D till 5pm
1:40pm                 Questions and answers for B+ and B riders, Clubhouse
5:00pm                 Track sessions end
5:30pm                 Gate closes
Your 1st session and tips
The time has come and you are rolling to our track entry. You stop by the tent and check the sign is showing your group. Our staff will check if you are wearing the required gear. Zip it up and check you helmet strap. Don't sneak out without proper gear… we'll get you anyway and your track day is over. Wait for instructions of our staff, who are letting only five riders at once out on the track in a 10 seconds frequency. And here are my tips to you directly!:
Turn on your brain from the first time out and don't do the 'street sightseeing' thing. I've seen riders clocking up the entire track. Don't be the guy and keep the damn thing rolling
Focus more to the FRONT and stay calculable for others on the throttle with both hands on the bar
Don't change lines rapidly and NEVER do zig-zags to warm up tires
Don't close the door on someone and do not release the brake… let the guy pass. You are not Marc Marquez!
For 'the faster guy in the wrong group': Be patient and don't get mad. Stuff like that happen all the time and everywhere else too. You are might be in the right group when all the others had some more time to find their rhythm. If not… come and talk to us after your 2nd session and we'll help to get you into a more suitable group if possible
For 'the slower guy in the wrong group': Be patient and don't get mad. Stuff like that happen all the time and everywhere else too. You are might be in the right group when you get more familiar with everything and found your rhythm. If not… come and talk to us after your 2nd session and we'll help to get you into a more suitable group if possible
Find your own rhythm, and don't try to copy someone else rhythm. Relax and keep breathing. Have fun!
Track Etiquette
For all racers and sport enthusiasts, the information in these two subjects should be ingrained in your brain. Know all the flags and the procedures that go with each one. Know the pit in and pit out procedures and how to properly signal. Don't have any doubts about these before you get to the track.
NO STUFFING! Let's say you make a pass around a rider and cut back in front of him/her entering a turn. You think it's a safe pass but the rider you just passed is having to grab the front brake to keep from hitting your tail section. You just STUFFED the rider. OR you make a pass and the rider has to change his/her line entering the turn. Again, you just STUFFED the rider. In both cases, you are violating our rules and we pull you out!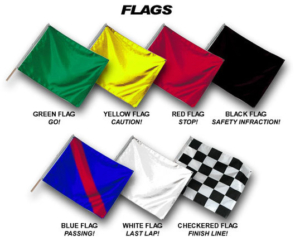 AGGRESSIVE RIDING! Aggressive riding is strictly prohibited at all of our events. This includes all groups. Our schools and track day groups are for riders to learn and enjoy themselves on the racetrack. This is not a race day or a timed qualifying practice. Forget lap times. There will be times on track when you have to give way to slower riders. Remember, you are there to have fun, not set a new track record.
FLAGS AND SIGNALS! Look back before you enter the track and do not go on the ideal line until it's clear. Check back before you close the throttle and give a permanent left hand signal if you decide to exit the track. This are the standard flags set you need to obey at all times:
Faster Riders and Racers! The slower rider OWNS the track. Take time and make a smart decision on a passing and allow buffer according to the group. Be a role model, not a jerk!
NO BIKE CONTACT! In the event you make a mistake and make contact with another rider, you are done for the day.
Superbike-Coach conclusion: Don't make a big deal out of it. Riding on a track is overrated and pretty much the same concept as you were riding your bike on the street. Other organizers promising you will lean much more in one track day as in a year of street riding. This is BS, unless you have someone showing you the right things to do on the track. Most confusing will be the gigantic width of the track and to be worried whats going on behind you. Try to cut this out and give a little trust in others. Just relax and have some fun.
————————————————————–
How to load a motorcycle on a truck
We had lots of fun with this video, and it will put you a smile on your face as well. You don't want to find yourself in a situation like this though, so enjoy the video first to get something out of it, and then keep reading with our article, and watch the tip video we made, and read the little article below:
So here is how Pro's doing it in a minute- without any damage and injuries. Let's have a look on the equipment base you need to have to get the job all by yourself done.
Pickup truck with at least space for one motorcycle in width and length, and at least for hooks to tie-down
Long (reduces the ankle to the truck bed) fold-able bike ramp, which is very wide (walking path) as well
One short tie-down to secure the ramp down to the truck
Universal Roll-On Stand for single operation

At least two heavy-duty buckle zip (ratchets were yesterday!) tie-downs with swivel hooks
At least one rubber tie to transport and secure the bike ramp on the truck
From here we let Headcoach Can Akkaya from Superbike-Coach take over to explain the process:
The process in detail
Backup your truck towards the end of your drive way. The downgrade and the long/wide ramp makes less ankle, and your risk getting stuck up there decreases. Take measurements if you are not sure, or have someone check on it while you roll up the bike.

Secure the ramp down to the truck, so that you won't push the ramp up or slide it away.
Have at least 2 standard Tie-Downs fixed to the truck bed hooks already.
Place the Universal Roll-On Stand in the center of the truck against the bed wall.
Place your motorcycle front wheel towards the right or left (preference) side of the ramp, so that you have enough space to walk up next to the bike (right or left- preference).
Start the engine and put in 1st gear.
By covering the front brake lever with one finger- ease off the clutch slowly and smooth until you feel friction, and see if you might need to give it a little throttle.
Ones the bike is rolling, walk with it up the ramp by keeping 3 tips in mind: 1) watch your steps on the ramp; 2) don't hit the rear sets with your legs; 3) try to keep rolling continuously (easier to balance) until the bike rolls into the stand.
Use the upper triple clamp to mount those tie downs (multiple ways to do that) and strap them down firm until the bike doesn't move anymore when shaking on it. Two ties down the front are OK, but you can add two more on the rear if it makes you feel better.
Get your ramp up that truck and secure it with a rubber tie. Adjust you speed accordingly!
Superbike-Coach conclusion: If you go to the track and have to transport bikes frequently, then this is the best investment in transport equipment. BikeMaster has all of it for very reasonable prices and they deliver real fast. Check out their full catalog here [….]
————————————————————–
How To Make A M1 Motorcycle Drivers License
There are pretty much two ways how to make a M1 drivers License, and we want to show both:
On your own with the DMV: Cheapest and quickest way, but it demands a solid riding skill already
Certified riding school: Expensive and time consuming, but good for total beginners
So let's through a light on doing it on your own first. Your local DMV has free Motorcycle drivers license brochures which you should read entirely.  Make an appointment at your DMV to make a written exam, and use the time to test yourself here for a while. Pay $28 to pass the test :-)
For a pass- and being 21 years old, the DMV will hand you out a 'Temporary Drivers License' which expires after one year. Withing this particular year, you could try to make the required riding test twice if necessary. The test is known as 'the keyhole', and can be very tricky. The following video makes clear what to do:
Not crossing the white lines- and no foot down looks easier as it is, but going to the DMV after 5:00pm makes practicing the key hole possible. The rider in the video was lucky we believe, so here are some suggestions from Headcoach Can:
A sportbike is killing it, so use a Scooter or a little chopper. Don't tense your arms up, and take a deep breath. Use first gear and the clutch on the friction. Idling the motor is enough, so NEVER use the throttle to adjust. Also NEVER use the front brake to adjust, since this will move weights back and forth and can throw you off balance. Instead, have your foot slightly on the rear brake friction for small adjustments. Never rush things and keep breathing. When you're done… come and see me! :-)
Certified School for M1 license
Since Coach's wife Marion Akkaya wanted to make a Motorcycle drivers license, we thought it will be an excellent opportunity to get a fresh impression of how those certified schools (by DMV) are doing. First of- it was funny to see some of their instructors again, after seeing them sitting in Coach's seminars and attending classes, and we are happy to see that  Superbike-Coach programs obviously had a 'influence' on their curriculum.
However, Marion got thought everything by 'Coach husband' and because she's a fast learner she was able to ride over the Freeway with her fresh temporary drivers license:
Two weeks later she passed her riding test at a certified riding school in Sacramento, and she had lots of funny and shocking things to report about that experience. The 2 days course cost $280 and includes a Honda 250 bike. Riding in the California sun on a parking lot ain't much of a fun, she mastered the counter steering and braking drills best, which is no big deal after working with Coach. So congratulations to her- but now it's time to get into Can's Cornering School Day program!
Superbike-Coach conclusion: We believe you can do this on your own- if you have the opportunity to practice.  There is not much you are going to miss by not walking through a certified school. Ones you have your drivers license- go and get some 'real live' coaching! [….]
————————————————————–
How To Setup A Motorcycle Suspension
There are lots of misunderstandings about how to setup a motorcycle suspension setup, and I've seen questionable work from even supposed specialists. Those specialists make riders believe that one click on the front rebound could lower lap times by 7 seconds… yep, I've really experienced this.
Stuff like this is totally off reality of course, especially as I still saw his bike bouncing around on Thunderhill Raceway- totally out of balance. In fact i believe that an intermediate to advanced rider don't even feel the difference of even 15 clicks- especially not on a OEM suspension system.
If you would approach the setup with logic, you wouldn't have to spend $50 bux to let an expert do some 'big deal clicks' on your stock rear shock, which are most of the time not even going nowhere. You don't need to be nervous to do it yourself, because the range of an OEM suspension is just to small to make a significant change in terms of stability and safety of your bike.
To really make a significant change to match your riding style and purpose- you need to make rearrangements to the geometry of the bike, and then to match the suspension to this geometry… for example:
Super tight track: You want to drop the front end or to raise the rear a little
Long braking travels: You want to drop the rear right height to keep weights low
Long acceleration periods: add a chain link to use up chain adjuster recourse for a longer swing arm.
Please Note All Following Points
There is NO "perfect" suspension setup- only the' best compromise. A setup grows with your rider level.
So when someone says "I've clicked you the same suspension setup as I gave to Valentino Rossi", then this is logically not going to work for you well.
Use the potential of a OEM suspension first before you buy aftermarket stuff… then you really know what it is capable of.
OK, the link below will open an additional page which you can print out to bring it to the track. It's just hat this page is too much for this section here, because it throws a light on how to set it up right, and how to trouble shoot. Enjoy:
Superbike-Coach conclusion: Don't be blind and use logic to see the reality. Even totally overrated suspension guru's can change much on OEM shocks and forks. Don't make a big deal out of it. Just make sure the preload settings are right, and bring it in a balance as close as possible. If the OEM springs are way too soft… exchange them it more harder ones. If you want to have it 'real good'… you're looking at 4-5 grand… easily! [….]
————————————————————–
How To Choose The Perfect Motorcycle Glove
Finding the right motorcycle glove can be time consuming, but I believe it's worth it. I think most riders choosing the glove because of their looks. But design or even colors should be just a secondary thought. A high quality glove has its price, and yes I do understand that money is maybe a factor for you… but this goes kinda the same way you should pick a helmet, because  a natural protective instinct makes us bringing our hands out to catch the fall, so you will crash in 90% assuredly right on your hands. Here is what a bad glove choice can do to us:
Needles and pins (uncomfortable, slow reaction time)
Bad quality (short life, leather cracks, bad protection)
Bad protectors (weak, wrong placed, open wrists = big time injuries)
Bad size choice (too small: slow reaction time. Too big: interferes with throttle and levers)
Bad features (sweating hands, uncomfortable, slow reaction time)
Axo USA is one of a few manufacturers I found who are delivering the full package.  Their
website offers sizing charts and lots of intermediate sizes to pick from.
Also their category description gives a good insight before you rush and take a purchase too easy. Spend your money wisely.
Our little video tutorial should below gives you a good idea what to look for in a glove, and how important it is to also set the levers to your needs.
How to adjust your levers the right way
Most riders are leaving the levers the way they are set from the factory, but I highly recommend to readjust them to your needs. I demonstrated in the second part of the video tutorial above, how essential especially the brake lever position can be. I actually forgot to mention that this even puts your hands and arms in a better angle to catch up G-forces under hard braking. Here is what we give away with wrong lever positions:
Too high: slow braking procedure, bad feeling for the braking
Too low: hard to reach when doing hanging off
Interferes fingers/levers
As mentioned- you'll probably can't just loose the bolts and simply twist each perch because most manufacturers having a pin set to avoid that for liability reasons of course. You need to remove each pin which is not a big deal at all. Have the right tools handy and be patient with your work. Set the levers in a straight line to your arms/fingers, and tighten up all bolts properly. You'll find a much more relaxed riding position after spending some time with this.
Superbike-Coach conclusion: Lots of good things coming along the right glove and lever adjustments. My favorite… safety! The speed you can reach to the brake lever can decide for you between dead- or alive. Just this is worth the extra money and time is well spend to figure the best lever positions for you! [….]
————————————————————–
Coming up next:
How to choose the right helmet
Rear set and lever adjustments
Do minor services yourself (Oil change)
Cleaning a bike
What gear to buy
What tires to buy (street and track riding)
————————————————————–
Interesting Motorcycle Links
Blog Posts
Portfolio
Pages
Categories
Monthly